Gifts from the Sea
that Activate Inner Wisdom, Creativity, Healing and Transformation
"Beautiful tools for living life with passion and wholeness."Alberto Villoldo, Ph.D.Author and Founder of The Four Winds Society
Introducing the Sand Spirits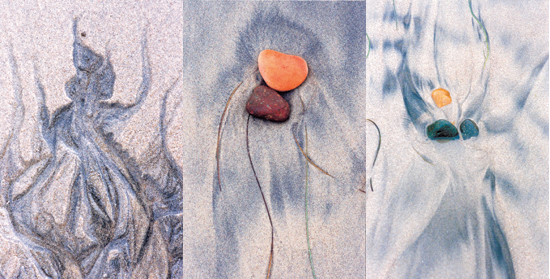 Choose one of the three images that calls to you most strongly. What form or figure do you see? This is your Sand Spirit for now. Try asking it these questions and "listen" for the answer:
Who are you?
Why did I choose you? What would you like me to see or understand?
What message do you have about me and my life?
Now thank your Sand Spirit.
The Sand Spirits Insight Cards are unique tools that prompt people of all ages and backgrounds to greater understanding and inner awareness. These 36 stimulating photographs feature thought-provoking images that help users:
Discover your life purpose, power and passion
Awaken your creativity
Facilitate your problem solving
Reveal your power to heal yourself
Find inspiration to manifest your dreams and goals
Communicate your deepest feelings
With an instructional booklet and a linen-covered keepsake box, this package provides everything you need to access your own ocean of wisdom in both personal and professional life.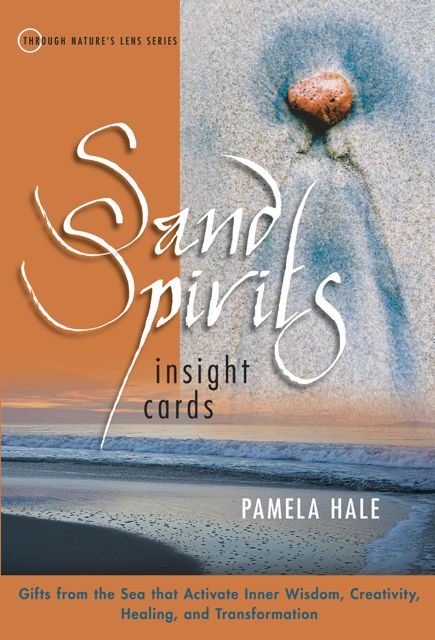 The instructional booklet and the cards themselves will show you how to shift from mere "looking" to a deeper right-brained "seeing" that will allow forms and figures to emerge and come to life. Exactly what you see will depend on you, on what you see and "hear" from each image. There is no right or wrong—only infinite possibilities created by your own internal vision. You can learn more about how the cards work by exploring the concept of therapeutic photography.
These stunning photographic cards are unique in the market of self-help tools. What is different about the Sand Spirits is that they bring the power of nature to you. You will be astounded by their magic!
The photographic images of found arrangements on a Mexican beach are nothing more than vibrant-colored stones, strong streaks of iron filings in the sand, and tidal patterns that trapped natural objects around the stones. The arrangements were framed through the viewfinder the way people have framed constellations in the sky–to reveal forms and figures and magical beings.
You'll want to hear the complete story of how Pam discovered these "spirits of the sea" and used them in her own healing journey. She used the Sand Spirits as guides in creating the set and the process for dialoguing with them. Clearly, these spirits are practical! They have touched thousands of people already, and their power and versatility seems to be increasing.
You can learn more by taking a workshop that will deepen the meaning and effectiveness of the Sand Spirits in your own life. Or, if they are a suitable tool in the work you do or are beginning, you can become a trained, certified Sand Spirits Insight Cards facilitator. Learn more about these trainings under the workshops tab on this site.
Here are just a few of the powerful ways Sand Spirits have been used:
A client suffering from depression ses an eye shedding a tear of glass, and understands why she hasn't been able to cry
A cancer survivor sees a Hindu goddess dancing the passionate dance of life, and says "Yes" to her own life.
A teenage boy suffering from rage picks three cards and tells a myth in which a being from the cosmos dives into the ocean, is tumbled by turbulence and then remembers he is supposed to "find his feet" and morph into a warrior chief. The boy sees his path and is able to share his myth with his family to gain support.
A simple reaction from an elderly man unaccustomed to personal processing is, "Well, I'll never see a beach in the same way again!"
If all the cards do is help people truly see nature, the whole world might change.
What audiences would benefit from the Sand Spirits cards and presentations?
Women's groups that support the growth, well-being and success of women will embrace these cards.
Parents will find that the Sand Spirit can help their children express deep thoughts and feelings despite verbal limitations.
Therapists, school counselors, spiritual directors, hospice workers
Cancer support centers, cancer organizations and other organizations supporting people with chronic health challenges
The brain-injured, the blind and the learning disabled are audiences with whom Hale has had experience, and the imagery of the Sand Spirits can provide a bridge to greater communication and self-understanding.
Hospital boutiques should carry these cards, as they are a valuable resource for caretakers and patients
Spas: Visitors to therapeutic spas will find these cards (and presentations about them) to be a natural enhancement to their spa experience.
Photography and phototherapy students and enthusiasts: As one psychologist said to Hale long ago about her work with therapeutic photography, "Stop looking for one audience; this works with everyone!"
Sand Spirits: The Workbook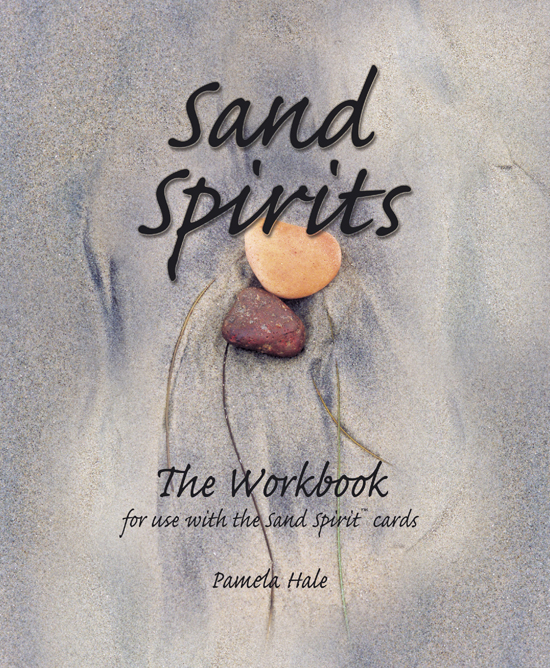 You will need the workbook if you take the three-day Sand Spirits certification workshop to allow you to use the cards as a professional tool.
Those taking the facilitators' training will use the workbook to explore the cards more deeply and to learn about specific applications such as business, writing, the creative arts, parenting, and therapeutic work with clients.
A powerful tool for therapists, coaches, parents, teachers or healing practitioners!
"A most sensitive and useful instrument for helping understand and honor personal material." —Sheila Bender, author, poet, publisher of WritingItReal.com
Note from Pam
I am pleased to offer you these Sand Spirit images, which were a gift from the sea that I received in 2000, just weeks before I was diagnosed with breast cancer. You may find it hard to believe that I did not touch or arrange any of the images; the artist was nature. The forms and figures I saw on the beach became so powerful in my own healing journey that they inspired me to be trained as a shamanic energy healer and to develop ways to work with people of all backgrounds and ages. The Sand Spirits have inspired and awakened people all over the world. Now it's your turn to discover the power of using natural symbols for your own growth or for your professional work with others. I look forward to hearing your stories!
A portion of the proceeds for all Through Nature's Lens products is donated to charities that promote healing of people and the earth.
What people have said about the Sand Spirits Insight Cards:
"Use the Sand Spirits; you will be enriched, at times transformed, and opened to a new source of healing."Lana Holstein, M.D.
"Your Sand Spirits are awe-inspiring and so beautiful!"Pamela Brackett, Macon Georgia
"The Sand Spirits Cards are wonderful images for connecting with the subtle mysteries of the shore–as if the spirit that moved there and left that arrangement still has something important to tell me or show me." Tom Cowan, Author and shamanic practitioner
"I am so proud to be a Sand Spirit Facilitator. I find it a great tool along with my counseling skills to enable my clients to unblock conditions and move forward. Every time I have worked with the cards seem to go directly to the person's soul. Everyone I have worked with is so grateful for the experience. I feel I have found the connecting link as a practitioner in Sand Spirits. Thank you so much for your insights." Diane Burdette, counselor, Reiki Master and certified Sand Spirits Cards facilitator