When I was preparing to teach a seminar on Nourishing our Sense of Self, of course I wanted to feel my own Self in all her magnificence! I wanted to feel radiant, enlightened, and certain of what to offer.  Instead I was filled with an unnamed and unwelcome sadness, an emptiness, a not knowing, a forgetting, and a disorientation.
On a meditative walk, I asked for guidance.  I heard, "These are signs of an under-nourished Self or soul."
I thought, "Oh, great.  I'm failing at the subject I'm about to teach." And so I asked my elusive Self, "So what do I do?  How do I nourish you?"
What unfolded over the next two days was a process or practice for reconnecting with and nourishing the Self, or Essence.
Think of what is challenging you as you read this process. Bringing a challenging issue with you is a good way to see how the practice works.
First, I realized that I was stuck in an old addictive way of thinking. I was pulled into listening the ego, the mask or protection we have carefully built to protect the Self.
When the Great Forgetting occurs during the course of growing up and relating more and more to the outer world, we fall into the addictive pull of believing that the ego or mask is the self. I needed a process for breaking this addiction, for returning to my Essence.
I hope you find it helpful—and I would love to hear your comments!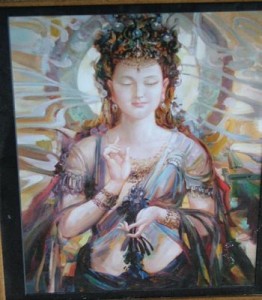 The Twelve-Step Program for Breaking the Addiction to Ego
and Nourishing the Self
1.  REMEMBER.
Just remembering the there is a Self of Essence within, and knowing that we have become disconnected is a powerful act in itself. Nothing more can happen until this remembering occurs.
2. CHANGE THE CHANNEL.
The ego works through the mind, and the mind chatters, nags and sometimes screams through "headphones" we wear when we are tuned into what author Annie Lamott calls "Station KFUK." As humans, we have the unique ability to change the channel and go within and simply listen.
3. ASK FOR HELP.
Whatever your idea or language is for a higher power, ask for help from the universe. You are not alone, and thinking that you are is an unnecessary form of suffering.
4. SET AN INTENTION.
Tell your higher power or angels, guides, ancestors, saints or nature spirits what you'd like to co-create with their help. Focus on an experience like love, peace, inspiration or abundance rather than a specific outcome. Include your willingness to show up and do your part to create this experience, but don't dictate how.
5.  CENTER AND GROUND.
You need to be fully on the earth and standing on your own two feet, so picture them sprouting roots that go all the way to the center of the earth. Feel the energy of your first chakra building, filling you with a sense of safety, security and belonging.
6.  PLUG INTO YOUR AUTHENTIC POWER.
Breathe into your second chakra in your belly.  Imagine a golden cord attached there that moves down into the earth to the center.  Picture the spirit of the Mother, the Divine Feminine at the center of the earth, filling a basket of her power for you and sending it up the cord to your belly. This is the power that births babies, seeds and stars.
7. EXPERIENCE YOUR TRUE SELF.
Breathe into the third chakra at your solar plexus and imagine your Essence or true Self taking a form that reflects the beauty of your soul-force living here. What does s(he) look and feel like? What are her powers? Her standards? How does she speak to you? Take time to meditate and feel this experience.
8. ACKNOWLEDGE THE SMALL ONE WITHIN.
Return to the issue that has been challenging you and to the feeling of powerlessness or fear you've had around the issue. When you are "in" this energy, how old do you feel? Acknowledge that there is a smaller you inside that needs compassion and help.
9. ASK THE TRUE SELF TO TAKE CHARGE.
Put her or him in the pilot's seat. Embody her. Explain to the small one within that you are not abandoning her. She does not need to handle this issue; you will be in charge.  Feel your being fill with essence and notice what happens in your body and mind.
10. SEE YOUR WORLD THROUGH THE LENS OF ESSENCE.
Look at your world and the issue you brought with you through the lens of essence, soul or true self. Any change in perception?  Miracles can happen just because of shifts in perception. What is true now?
11. ASK FOR THE NEXT STEP.
When we are embodying Essence, we don't need to be able to see control everything.  When we have returned to a place of faith and grace, all we need is a flashlight, not a searchlight.  We are pioneers out in uncharted territory, so all we need to know is where to put our foot next. You know your next step.
12. LOCK IN AND LET GO.
Lock in means asking your True Self to give you a physical sign that will wake you up if you forget again and go into a trance. The twitch in the stomach or pain in the neck will lock in the mechanism for remembering and returning to Essence.
Now, just let go. Let it all go, expressing your gratitude.
So, how did that work for you?  I welcome your comments!