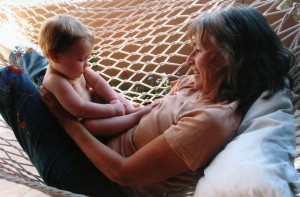 Once upon a time, I didn't know what love was.
I knew it was a good word, a desirable feeling, but I wasn't sure I had experienced it. How was it going to feel? I was a child, trying to team up words and concepts with real-world feelings.
In 7th grade I made friends with a girl named Missy. I went to her house a lot to spend the night on weekends, and I started to notice something. Every time I went there, I got this odd feeling. It was like a tingling in my chest, a kind of light, airy feeling, and it seemed new to me.
Now, looking back on it many years later, I know what that feeling was. It was love. It was my heart opening. It was a time when my own household did not feel predictable to me. My mother was ill, and so one minute she was lovable and the next minute, loving her felt impossible. After all, she wanted me to brush her hair, and I wanted her to brush mine.
Missy's house felt different. Her parents seemed pretty much the same to me every time, and so I felt a trust that I'd have a good experience there. Missy felt reliable too, and so I dared to trust her. I dared even to trust myself in those situations. So my heart opened a little and felt more spacious. Lighter.
Again, looking back I can relate this feeling to other times. To times when my mother was well, and when I loved her beauty, her brightness, her laugh. When my dad was barbecuing in the back yard and I felt  happy about more than the yummy chicken I was about to enjoy. When my baby brother was born, there was a magic about his being in the house. These were heart openers.
Babies do it for us, don't they?
When mine were born, I knew that I was discovering what real love was all about. It was as though I'd never felt it before. I barely knew who they were, and yet knew I'd give my life for them.
Now I have five grandchildren, and so I've been blessed with many heart openers. Many times of feeling that spaciousness, that tingling, that lightness.
And, in all these years, I've had heartache, tragedy, betrayal, disappointment and pain, just like you. Just like all of us. And so, I've had many times when I've closed my heart.
What to do about my heart opening like that, only to close again?
Well, for me, it's important to do some proactive things about this very human dilemma:
1. I practice opening my heart. My meditation practice is all about this. It's meant to "polish the lantern," to clean off the gunk, to let the light shine. It's about attuning to the Big Heart.
2. I try to be conscious of when I'm closing my heart. I try to notice what triggers me and how my habitual response is to close. And I try to keep aware that it's a choice on my part. Do I really want to keep doing that?
3. I try to be grateful for all the heart-opening experiences when they come, and to be grateful to myself for noticing.
These simple steps seem to help me change my habits. They help me keep that heart open more often. More and more I notice that it's all related to how I choose to see a given event or situation. If I choose to see it through the eyes of the heart, I may feel pain, but I can survive that. It's better than closing my heart again and having to figure out all over again what that word "love" feels like.