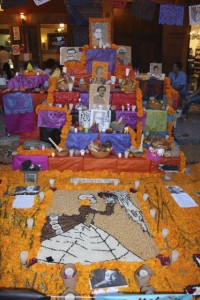 On the night of Nov. 1, the whole central plaza of most Mexican cities is ringed with altars (or "ofrendas") like this one. Each is a unique creation made by family and friends to honor a loved one who has passed to the spiritual realm. When I spent two weeks around Dia de Los Muertos in San Miguel de Allende, it was a carnival-like atmosphere, with music, vendors and crowds–and yet the process is a serious and meaningful one that honors death as part of life.
I felt again how wonderful it would be if we had a tradition in our country to collectively honor the dead. After all, death is even more a part of every life than Columbus Day or some of the other holidays we observe.
As Octavio Paz put it: "A civilization that denies death, ends up denying life." Food for thought, no? And Mexicans have been celebrating some form of Day of the Dead for 300 years. 
When you look at this altar, perhaps what you see is the vibrant marigolds, the image of the skeleton (the "catrina," or figure of the skeleton dressed and participating in life), candles and photos. What you may not see is the layers of symbolism encoded here. (I am drawing on information in a 2013 article in the San Miguel paper by Jade Arroyo.)
Here are some of the symbols:  The altar itself welcomes souls (children on Nov 1 and adults on Nov. 2) and guides them to loved ones' homes. They are called "ofrendas"(offerings) because altars are for saints, and most of us aren't those! The image of the skull is a tribute to one's ancestors. The seven steps or levels in the ofrenda are traditional and represent the stages the soul must pass through before finally getting to rest. Items are places accordingly, so that on the top is a picture of a saint or the Virgin and the person being honored. On lower levels are salt, bread, favorite foods, and finally a representation of earth, usually done with seeds or corn.
Some ofrendas have just three levels: heaven, earth and the underworld. All of them include flowers, especially marigolds (called cempaxuchitl, their ancient indigenous name), baby's breath and cockscombs. White flowers represent heaven, yellow the earth and purple, mourning. Sugar skulls are eaten or broken down when the ofrenda is dismantled. Often copal incense is included, as is pan de muerto, bread baked especially for Dia de los Muertos.
The cut paper banners that flew over the entire Jardin (as the plaza is called in San Miguel) represent wind and the joy of living. Candles can mark the four directions. Water is offered in clear glasses for the spirit's thirst and is the energy of life. The person's favorite foods are offered, along with folk art like catrinas, alfeniques (sugar figurines) and paper chains.
I always put up a Day of the Dead ofrenda of sorts in my house, and this year I'm particularly aware of honoring not only our relatives, but also our Mexican brothers and sisters. I don't want to borrow this tradition in the spirit of cultural appropriation, but rather in the spirit of gratitude and honoring. In a country thirsty for rich symbolism, ritual and ceremony, we can be particularly glad when we're inspired to honor all the dimensions of life in a beautiful way.
This article was adapted from a post that appeared at theSpiritedWoman.com, and also appears in the Huffington Post GPS for the Soul.