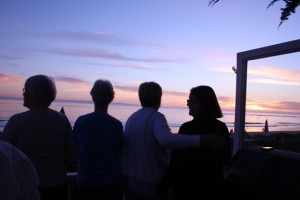 I'm visiting family and marveling at how long my grandchildren's arms and legs have grown, how my daughter has become an inventive and creative cook, and how my ex husband has turned into a gentle friend. As this year just begins to unfold, I'm aware of the longer arc, and of the graceful way life changes the way the path looked …way back then.
I'm reminded of the story of how an apparent tragedy occurs, only to become s portal for a fortuitous event, that then morphs into the doorway for another downturn. Age at least provides a lens for the long story, and presents an option not to get too caught up in the drama and apparent truths of each chapter of this wild and beautiful journey.
On this annual solo road trip, I visit family, see old friends, and will end up with seven close women friends who have been a group for over 35 years. We've watched each other meet obstacles, embrace blessings, and survive dramas great and small. Perhaps to balance out the complexity of our own sagas, we always pepper our reunion with as many movies as possible, separated by walks on the beach, home cooked food and less wine than we used to drink.
In our seventies, we know we face losses in the upcoming episodes of our reunion series. One of us has already lost a partner to a sudden, deadly heart attack. Another is recovering from a knee replacement and can't make it this year. What will it be like when our numbers thin? How will we all get to our destination if we're disabled? Who will die first, and how will we deal with that?
These kinds of questions are a reality of aging, and yet so far there is a saving grace. We have each other. Friendships forged at a progressive Episcopal church we all attended back in the day, our shared values run deep. We taught each others' children in Sunday school, and so we care who they've married and how their children are doing. We also care whether each woman is finding joy, discovering new meaning, and whether she can take a good joke.
We all have common political views, and so we complain about the state of the world. But these are women who are change-makers. We haven't given up. Back in the 70's we named ourselves the Women's Quilting and Terrorist Society, which we thought was funny then. Now we just use the initials, but the desire to shake things up is still very much alive.
Everything has changed for the one whose husband turned out to be gay and still is her best friend. For the one who lives close to the bone, after using all her savings taking care of her father. For the one whose bitter divorce was healed by a surprise passionate romance and marriage, ending in her partner's sudden death.
And nothing has changed. The big arc of our lives is trained by faith in the unseen. The dramas in each chapter have been tamed by good humor. And the shards of old stories are held in a sacred pot by women who will treasure them, laughing and crying together until we can't do it in person any more
This year I salute these women and all women and men who come together in groups, urging you to put these meetings first, even when it's hard to put the important ahead of the seemingly urgent. Every time you meet, you put money in the pot. And the older you get, the wealthier you feel, finding that life is made, after all, not of victories or defeats, but of the stream of love embedded in the entire adventure.
This post is also available on Huffington Post at my author archive, http://www.huffingtonpost.com/pamela-hale/. Your comments there or here are appreciated.