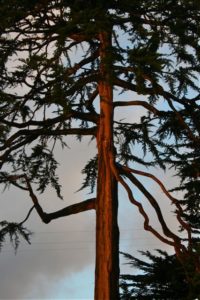 When I took this photo of a stunning tree (is it a Cypress?) I encountered in Santa Barbara, I wasn't thinking about an open heart.  I just noticed the golden light of the sunset on the trunk, and the wonderful geometric shapes of the branches.
But today, in thinking about the seminar I'm teaching on Thursday about living and leading with an open heart, I happened to look at my friend, the tree. I believe it has a perfectly open heart.  Its core is open to both earth and heaven, drawing nourishment from both, and giving back to each. A good model for living and leading, I think.
When I look at the tree, I also think of the yoga Tree Pose.  When I enter that pose, at first I'm just thinking about keeping my balance while lifting one leg and positioning the foot along my standing leg. Once settled into the pose, however, I'm able to lift my arms like branches, a motion that opens my heart.  Does this mean that you have to have your balance before you can open your heart?
I do know that when I begin to fall out of balance and am afraid, my instinct is to close my heart. It's an old notion of protection. So the practices of photography and also yoga are good reminders. Regain my balance and open my heart. Sink my roots into the earth.  Raise my arms to the heavens.  See now, what the next step might be.