Taking off in a small Turboprop from Vancouver, we left urban life for the Haida Gwaii, a cluster of islands 60 miles west of mainland B.C., and about the same distance from the Alaskan panhandle. Named the Queen Charlotte Islands in 1798, the Haida Nation ceremonially returned the name to the British Crown in 2010. "Haida Gwaii" means "the place, or islands of The People."
The Haida creation story tells of Raven, a supernatural being, cracking open a clam shell. The Haida People emerged from the shell, and the human race was born. Found objects on the islands have been carbon-dated to 12,500 years ago. One village has been continually inhabited for 1,000 years.
Where had I been? Why did I not know about this tribe? This would be an adventure full of humbling information and lessons that seem very relevant now, during these chaotic and challenging times.
In his fascinating book, The Golden Spruce, John Vaillant  writes that for many, the Haida Gwaii "represent a kind of 'soul home,' a wild, native Eden…The islands provide a link to how things were before the arrival of Europeans as well as a glimpse of a possible future."
We would visit the northern Graham island, where Natives and non-Natives live together and the Haida culture exhibits its resiliency. Then we would don our warmest clothes, climb onto a zodiac wearing oilskin suits over our parkas, and be guided to the southern islands and into the Gwaii Haanas. This National Park Reserve and Heritage Site where we would visit ruins of ancient villages, is accessible only by seaplane or boat.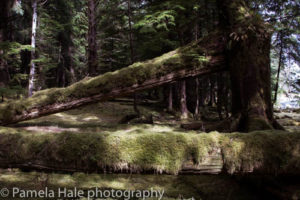 Everywhere we went, we heard about how the Haida have survived through a remarkable story of human endurance. So I listened very carefully for hints about how we, in the midst of a national and planetary crisis, will survive as well.
The lessons I learned were similar to my learnings from visiting and studying other indigenous cultures. There are solid principles that surviving ancient cultures seem to share. They are rooted in the spiritual realm.
For the Haida, supernatural, unseen forces come "out of concealment" and often take the form of humans. And so, like the relationship between land, sea and sky, boundaries between the seen and the unseen are fluid and in constant change.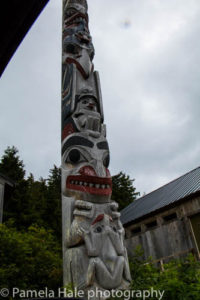 What does not change are several key principles that we would do well to take seriously.
"Yahguundang" does not translate directly into English, but the closest word is "respect" for all things: land, water, air, the supernatural, our ancestors, and each other.
2. From Yahguundang comes the corollary, the "privilege of responsibility." Haida attorney and artist Terri-Lynn Williams-Davidson writes, "The Haida Gwaii (the land) and the supernatural beings decided to believe in us and entrusted us with stewardship or our home and each other."
3. Humans are part of the natural world and are not superior to animals or other humans.
What would have to change if we lived by these principles?
It's true that there are hierarchies in the Haida world view and tradition. They divide their ecology into three realms: creatures of the sea, land and sky. Each is organized by rank, with an animal at the top. Killer Whale is chief of the ocean people; Bear is chief of the forest people; and Eagle is chief of sky creatures. Humans are born into one of two "moieties" or groups: the Raven or the Eagle moiety is passed down by the mother, and so is the crest and dozens of clan identifications.
But these designations do not mean "power over" another; they seem to have to do more with respect, honoring and belonging.
How do these laws play out in their culture? That will be the subject of four more articles in this series about the Haida Gwaii and the lessons that we might glean from them. I'll touch lightly on highlights of their arts and culture; their ecology; their resilience; and their spirituality.
Coming home from the Haida Gwaii in late July and re-entering the crazy world of deteriorating geopolitics, rhetoric and the dumbing down of debate and dialogue makes me more convinced than ever that we need to look at the wisdom we have inherited from our indigenous neighbors. It's not about going back; it's about re-membering, putting back together a way of being that has to do with who we truly are and what life really means to us.

For what principle would you really take a stand?
This post also appears on a Huffpost blog.